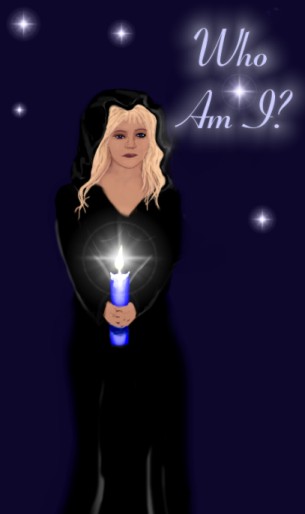 I am The Lady Of Dark & Mysterious Rhymes.
I'm an aesthetic scribe, and I write on a diversity of subjects.
One of my sisters, (I'll call her Drifter), says I'm a Freebird and I have to agree with that.
I'm a Gypsy at times, and frequently retreat to mystical lands where Golden Trumpets blow.
I was born with a very old Soul, but I've always had an infinitely fresh Spirit.
You will also note that I'm rather eclectic.
I'm known far and wide by many, as The Midnight Writer, Jokergirl, Lefty, and Alias.
You may call me whatever you please!
I'm a complicated lady, and at times I can't even figure me out, so don't you try either!
I retired from a very fulfilling career as a nurse, but I won't elaborate on that... Now I'd like to continue with the real passion in my life: poetry, writing, reading, and learning.
There it is in a nutshell.
I'm on a grand quest for Wisdom, and I find a little more each day.
I also seriously examine religion and philosophy, and I'm a very enthusiastic reader of great books.
Good music is a must for me, and I simply can't do without it.
I'm the most eccentric person I know, but I consider that a good thing.
My eccentricities are what make me who I am, and I never wanted to be anyone but me.
Bob Dylan is my luminary, and every poem he has written is my favorite poem; Every song he sings is my favorite song.
I respect and enjoy the poetry of Robert Frost very much, and the wisdom of the philosophers I appreciate goes on and on.... but Jesus is my TRUE HERO!!***
I write under the pen name Cathlyn Cross-Leming. (Cross was my grandmother's maiden name).
I've written poetry, short stories and essays for as long as I can remember, and wish to continue writing for as long as my eyes can see and my hands are able. Much of my poetry has religious undertones, or is completely obvious, while other pieces are derived directly from life experiences. The whimsical prose simply pops into my head. I invite you to read some of my poetry and writings, and cruise around the site and see what I'm up to, and while your at it, have a look at the lovely awards I'm very proud of! If you visit the section marked "Something Special" you will find a very special poem that a friend wrote for me. Please check back from time to time, I add new poetry, ramblings and ravings on a regular basis.