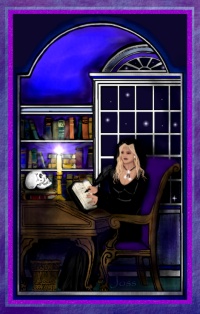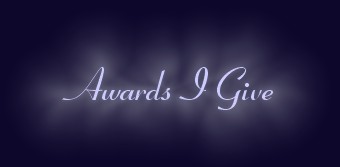 The Midnight Writer
Award Of Excellence
For Poetic Genius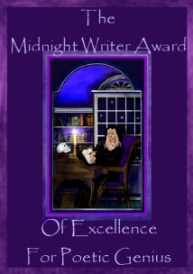 Where does your imagination take you?
Do you swim under the ocean and frolic with Sea Sprites?
Perhaps you have visited Atlantis, or maybe you've had close encounters
of the "irrefutable" kind. Can you gaze into heavens and comprehend
the reason that each star has been given it's own name? Do you hear
Ethereal voices on the wind, so sweet that it makes you sigh? Can you hear
the voice of The Almighty when you hear the thunder roar or the lightening crash?
Do you set your musing, contemplation, and proficiency to paper with a quill? I do all
these things and more. Indeed, Poetry is a Divinely bestowed gift, fashioned to grasp the
listener or beholder ---and to render one spellbound. However, Poetry is also a state of
being, and a Poet is a wonder in itself, not necessarily made of words.
Poetry just ~IS ~ Imagination is the key to all things.
This is the reason my award is given as an award for Poetic Genus. Perchance you
are a Poet and I would love to sojourn with you and examine your thoughts and
creations. I hope to find that your conceptions are as unbridled and free as a wayward gale. . . .
Quite possibly, we are Kindred Spirits. Where do you abide that I may visit?

My award has been bestowed upon very few sites without their application.
If you wish to apply, please review the criteria listed below.

The signing of my guest book is NOT a requirement for receiving my award

(1) Your site must be easy to navigate
(2) You must be able to grab my attention and hold it
(3) No site which has Satanism, Witchcraft or Occultism of any kind will be eligible
(4) I would like to see deep intuition and creativity within your work
(5) No racism, hate or sexually offensive content will be eligible
(6) Have an interesting design and layout
(7) There can be no copyright infringement nor plagiarism
(8) All written material must be your original works unless specified
(9) Site must be in English, or offer an English version
(10) Send me an email with "Award" in the subject title, and the URL of your site for review

If you receive my award, please don't copy it from this page... I will send you the award.

Due to a illness, the Award Recipient Page is updated very infrequently.
If you receive confirmation that you have been chosen to receive this award,
rest assured that I will get around to it when my health allows.