Mystical Metaphor Written For Me
I have been writing poetry since I was a child.
I've written many poems for other people
but this is the first one written for me.
It was written by a great poet and Kindred Spirit.
I can't begin to tell you how touched I am with this.
Not only did she write the lovely poem, but she did this beautiful artwork as well.
Thank you Laura, from the bottom of my heart!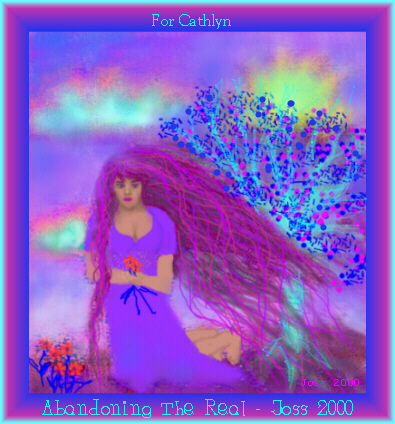 "Abandoning The Real"
I was picking blood red daisies from long bright blue stems
for a friend who thought herself dead
or were they for just me instead?
Oh well, what does it matter now that I've slipped into a dream
I always give away far too much anyway
at least that's what they'll say on my final day
Sing song tales and soulful stories
a poetic life in all of it's glory
but I have always worn my art on my sleeve
and sat back waiting to see how it is perceived
The world has shifted slightly somehow
and the sun has melted colors into me now
and I'm not quite sure I can tell what I feel
the only way might be just to abandon the real
What, do you think, would the rest of you do
if you found yourself suddenly wearing my shoes?
If what you once thought real was now in between,
if the sky became purple, the sun became green?
Sometimes in this life you can't trust what you see
and when faith becomes blind it gets hard to believe
Just believe in yourself with your heart and your mind
and stop looking for answers you never will find
When all hope is abandoned and you're too numb to feel
sometimes you just have to abandon the real.
By
Laura Josselyn
"For Cathlyn Leming - The Midnight Writer, a friend and a true kindred spirit."
Click on the graphic below to visit Laura's website of art & poetry.