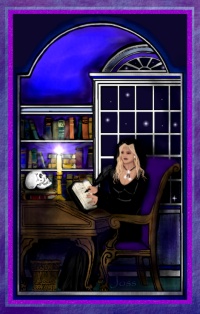 POETRY PAGE ONE

"Forevermore"
Sergeant York was a Hero, we know it is true,
And Audie Murphy was admirable too.
But what of those who got no applause
For defending with Honor, their countryís
cause?
To me, all of those who went off to war,
Deserve special praise Forevermore . . .
I see them young, I see them old,
A soldierís story left untold.
Do we civilians yet understand
What happened in a foreign land?
I think I know--- though some do not,
Oh the trials & horrors of what you got!
I know for sure you did your best---
Should be laden with medals upon your chest,
And thatís the way that it would be
If it were all left up to me.
I see them old, I see them young,
A heroís story is left unsung . . .
Wherever would this wide world be
If not for your integrity?
Iím proud of you, behind no shroud
Even in the largest crowd---
Iíll give my homage upon bent knee,
All of you are heroes to me . . .
The dense may think that this is but lore,
But you are esteemed Forevermore.
Iíll tell you this, and then Iíll leave,
"For your endeavor & pain, I shall sorely
grieve."

"THE LEMINGSí DANCE"
OUT OF THE ARCTIC REGION, THE MIGRANT
SPECIES CAME;
MILLIONS DIED IN THE ROLLING SEA, SOME
PEOPLE BEAR THEIR NAME.
CURIOUS CREATURES THO THEY BE, AND NOT
AFRAID OF DEATH,
THEY PROTECT EACH OTHER FROM THEMSELVES,
WITH EVERY DRAW OF BREATH.
SOMETIMES IT IS TO EACH HIS OWN; SOMETIMES
EACH TO EACH,
A DISTINCTIVE NONCONFORMITY IS WHAT THEY
WILL NOT BREACH.
AT TIMES THEY WILL ISOLATE, AT TIMES THEY
COME OUTSIDE,
IF THEY DON'T WANT TO LET YOU IN...
REMEMBER THEY HAVE PRIDE.
BUT WHEN THEY GET CELEBRATIONAL, AND IF YOU
GET A CHANCE,
OPEN UP YOUR EYES REAL WIDE, AND WATCH THE
LEMINGS DANCE.
IT IS QUITE A SIGHT TO SEE, WHEN THEY ARE
TRIUMPHAL AND LIGHT,
THEYíLL BE FILLED WITH MERRIMENT, AND DANCE
FROM DAY TILL NIGHT.
EXALTATION, REVELATION, OH! HOW THEY SHOUT
AND ROAR,
SMILES UPON THEIR COUNTENANCE, BECAUSE THEY
MADE THE SHORE.
AND IF BUT ONE OF THESE COMES TO YOUR FRONT
DOOR,
LOOK REAL CLOSE INTO ITS FACE, YOU'LL SEE
THERE, THREE OR FOUR.
ASK ONE IN AND SIT HIM DOWN, BEGIN A
CONVERSATION,
AND BEFORE YOU REALIZE, THERE YOU'LL SEE A
MASS ADMINISTRATION.
IF YOU GET REAL LUCKY AND MAKE THE RIGHT
ADVANCE,
YOU WILL SOON BE OFF YOUR FEET, TO JOIN THE
LEMING'S DANCE.
BUT DO BEWARE OF THIS SAGE BREED,
FOR NO ONE KNOWS ON WHAT THEY FEED. . .
IT'S REALLY JUST OUTSIDERS WHO HAD BEST
BEWARE;
I WOULDN'T WANT TO CROSS ONE ON A GOLD
MEDALLION DARE.
I THINK THEY COME FROM NORWAY: VIKING
WARRIORS DESTROYING,
THERE AREN'T MANY IN THESE PARTS, AND THEY
ARE SELF- EMPLOYING.
I'VE SEEN SOME DO A LOT OF GOOD, AND WHILE
THEY ALL DO BAD,
IíM QUITE PROUD TO KNOW THEM, AND IT MAKES
ME RATHER GLAD.
I WAS IN THE MIDST OF THEM WHILE I WAS IN A
TRANCE,
OH, HOW WE SHOUTED AND REJOICED, AND DID
THE LEMING'S DANCE.
THE SAGE OF THE ODD CREATURES SAID, 'WE
MUST NEVER HAVE A RIFT,
ONLY A FEW OF US REMAIN, STEER CLEAR OF
MOUNTAIN AND CLIFF.
THIS IS ANCIENT TRUTH I SPEAK, IíVE NEVER
TOLD YOU LIES;
YOU ARE STRONG MY CHILDREN, RENOWNED FOR
BATTLE CRIES.'
AND THEN HE LOOKED ABOUT ASKANCE,
AND SAID 'LET US DO THE LEMING'S DANCE.'
THEY DANCED UP AND DOWN, AND ROUND ABOUT,
HAD STARS WITHIN THEIR EYES,
THE HAPPINESS OF THIS STRANGE BREW CAME AS
NO SURPRISE.
WHAT A GREAT DISCOVERY, AND HOW I WAS
ENHANCED,
TO SIT SO STEALTHILY BENEATH THE MOON, AND
WATCH THEM
AS THEY DANCED . . . .

"Condemned"
Stealthily, I went into a house I saw...
It had been condemned;
This was where I once had lived,
When I was married to him.
I walked through the rubble, and the falling roof-
I tried to be cautious, and not aloof.
I remembered when it was lovely and fine,
And happiness dwelt there...It was his and mine.
Though the walls had toppled; The foundation was good -
Just as we were, when we did as we should.
I jumped to avoid a hole in the floor -
Fell and cut my head on the door;
I was crazed and mangled, split and bleeding...
There were silent messages I wasnít heeding.
I was a mess, my brain was tore,
I was woozy and my thoughts were sore.
This pile of wreckage was once my home,
But now a place where entities roam.
I mused of how the time had passed -
And knew the reason it didn't last.
The foundation was built upon a hideous lie,
Now all that lingered was the ghost and I.
I stood, and to myself I swore:
"I shall be tangled like this... no more. . . "

"MOST ECCENTRIC"
I am the MOST ECCENTRIC and mighty proud to be,
No one else on this old earth is more eccentric than me.
I am non conventional, and out of the norm,
And more than often, I deviate from form.
Perplexing, curious, odd and funny;
All of this, but I have no money.
I enjoy being peculiar, exotic and quaint;
I am most eccentric, but you just ainít!
I am ever so foreign in a familiar land;
I reach out and touch with my alien hand.
Let me make mention; my life is bizarre,
So let me alone and stay where you are.
Different, unusual, and sometimes strange...
I even have a hundred names.
Oh sure, I DO exhibit a distant behavior:
But I find this to be in my immediate favor.
I'm a sleuth, a doctor, and a lawyerís attorney;
And the floor of the ocean is my next journey.
Don't lock me away to try and figure me out,
I inspired The Beatles to write Twist and Shout.
Sometimes dead poets whisper in my ear,
And Robin Hood's arrow is my souvenir.
If you've done it once; I've done it tenfold---
I've done most everything and I'm not even old.
I walked on the moon when I was a babe,
I have too many memories to try to save.
I attempted one time to breathe under water,
And I was rescued by a mermaidís daughter.
When I was held hostage by the infamous Capones,
I truly met up with the real Mister Jones.
I've been in the presence of Bohemian royalty---
But it was They who paid Me the honor & loyalty.
I was appointed to be Boston's town crier,
By now, I'm sure you might think me a liar.
Let me add, I am paranoid and can't quit it;
If I were NOT paranoid, I'd be an idiot.
After reading this, you can plainly see:
The most eccentric person alive is Me!

"The Music Box, For Bob Dylan"
One time I said to Dylan,
"Thank you for the song."
Iíve pondered to his wisdom
Many dark nights long.
Thereís no way to tell you
what this did for me
But indeed believe you this,
It set my spirit free.
This one is for you my friend,
My troubles turned and fled---
A moment in my universe
when problems all laid dead
I was lost inside the music
And the words did fill my mind,
Thank you isnít good enough
For that sweet space in time
When I saw you standing there,
My heart began to fill,
No longer in the music box
The legend is for real,
At last I had occasion
To greet you eye to eye
And after having done this
I can happy die!

"Behind Blonde Hair"
As I walked out on Locust Street,
I felt a presence there -
Something like a guardianís gaze,
from green eyes behind blonde hair.
The sun was shininí and the breeze was nice,
The weather was lovely and fair,
Iím sure I knew the essence well
from one whom I deeply care.
I looked around and this I know-
In fact, Iíll even swear,
The closeness that embrace me then
was you and all we share.
Although I saw no image,
and the street was utterly bare,
A kiss came to me upon the wind
From pale lips behind blonde hair.
I gazed into the distance
at the visage of my lonely lair,
And hung my head in sorrow,
From pain and dread despair-
But then a voice came comforting me,
From warm breath behind blonde hair.
Now I know Iím not alone
in this damned deluded snare,
Iíll walk on out to Locust Street
and find your spirit there.
[For Silvio whom I love perpetually]

© 2001 by Cathlyn Cross- Leming (All rights reserved)
All material written here is my sole original work