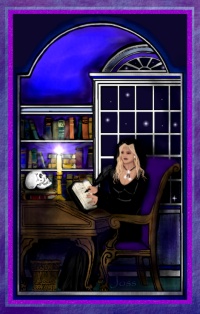 POETRY PAGE FOUR

"Sands Of Time"
I live inside the hour glass
Searching through the shadows past
Images real, and ghosts invented
Sometimes happy, but often tormented
Iím ill at ease while Iím contented . . .
Oh what a bog it is in here
Smiles and frowns, an occasional tear
Looking for things that used to be
Break the glass and set me free!
Iím biding time to laundry the stain
Here comes a memory Iíd not retained
. . . Vaguely I recall a cold driving rain
Oh God they have turned it upside down
The sand has begun another round
Break this glass and let me out
How many eons must I shout?
Oh yes, I know this is absurd
But what is written is the permanent word!
Iím not afraid, nor by myself
I see many others upon this shelf
And while I try to be patient and mild
This brain of mine is running wild
But wait! I see a friend of mine
Forgotten in these sands of time
Oh blissful now, Iíll seize the day
Carpe Diem showed me the way
Iíll wait in here for my name to shine
And laugh about the Sands of Time . . . .

"A Riddle Within This Rhyme"
Daddy, I wish youíd come back home
just for an hour or two,
Thereís so much running through my mind-
I canít tell anybody but you.
Just as you said, I finally grew up,
and Iím not so sure that itís well
Like you foretold me so long ago,
"Life can be rougher than Hell."
I guess I thought Iíd learned a lot
but now the jokeís on me
Why donít you just come on back
and tell me the way that you see?
I have a feeling deep in my heart,
I wonder what it can be?
It keeps me wide awake sometimes
and my spirit is speaking to me
Thereís a lot of guys out there
who want a piece of my time;
Daddy, what do they really want?
Thereís a riddle within this rhyme . . .
I think Iíve got it all worked out
or am I really blind?
Should I give up all of myself
even the depth of my mind?
I guess thereís nothing I wouldnít do
to sit and talk with you now
Iíd do anything in this old world
But no one can tell me how
Things are confused and so am I
although I work and travail
But you planted the seed of faith in my soul
And I know that I will prevail
I just canít help it, Iím all shook up
and running around in a whirl
OK, Daddy , Iíve got a grip
for I am still your strong little girl
You raised me with such Dignity
and "tough as nails" you said,
I took upon your character
and my shoulders carry my head
Now my back is straight and my head is high
and there is nothing to fear
I canít see your physical form
but I know your essence is here
Iíll try to make you proud of me
just like I always did
Though I am such a woman
acting like a kid
Iíll be all right, you know I will
Iíll be the best inside
Youíll smile when you look down from There
and look upon me with pride . . . .
Iíve said all this, but even still
I want that you should know
Iíll carry all you taught me
every place I go . . . .

"Gone With The Wind"
Back in the Sixties, a song was wrote
about political baggage we were made to tote,
War going on, and shoved down our throat ---
No one and everyone was a suitable scapegoat . . .
No logical answers could seem to be found,
and the Revolution did hover around---
None in The White House, nor on the ground,
Was there anywhere, a mind that was sound?
Iíve searched for the answers, just glance at my boots,
Thereís holes in the soles, and Iíve lost all my roots.
Now thirty years later, weíre not on the mend
My long hair is blowiní along in the wind. . . .
Here comes The Millennium, Oh! What will we do-
Are religions and philosophies tried and true?
Well frankly my dear, I donít give a damn,
As long as Iím certain of what I am . . .
Thatís all that matters, and I trust myself;
My sins and errors are displayed on the shelves.
Iíll keep on walkiní and Iíll never bend,
and let my long hair be gone with the wind . . . .

"LITTLE GEM"
WHERE DID YOU GO, LITTLE JIM, LITTLE GEM?
WHY DID YOU GO, WERE YOU FOLLOWING THEM?
WHY ON EARTH COULD YOU NEVER FIND PEACE?
DID YOU FIND THE RIGHT DOOR, DID YOU FIND SWEET RELEASE?
YOU HAD EVERYTHING GOING FOR YOU, PEOPLE THOUGHT,
BUT I KNEW THAT YOUR HAPPINESS COULD NEVER BE BOUGHT.
YOU WERE MY FRIEND IF I EVER NEEDED
AND I KNEW YOU WERE SAD, I SHOULD HAVE HEEDED.
YOU ACTUALLY GAVE ME THE SHIRT OFF YOUR BACK,
GENEROUS AND SWEET, YOU HAD QUITE THE KNACK.
YOUR SO CALLED FRIENDS THAT YOU THOUGHT YOU HAD,
CAN'T GET TO YOU NOW, ARENíT YOU GLAD?
THEY WERE COLD AND OBSCURE WHEN YOU NEEDED THEM,
IS THAT WHY YOU'VE GONE, LITTLE GEM, LITTLE JIM?
I WILL ALWAYS REMEMBER YOU WHILE HAPPY OR SAD,
NEVER WILL I FORGET THE TIME WE HAD.
YOU ARE ONE I WILL NEVER FORGET,
WONDERFUL MEMORIES WITHOUT REGRET.
I JUST CANNOT EXPLAIN THE SORROW AND PAIN,
THE BEAUTY OF YOU, IN YOUR SONS REMAIN;
IN THEIR LOVELY FACES I SEE TINY TRACES OF DISDAIN,
CRY, I WILL NOT... FROM THIS I ABSTAIN.
IF I HAD KNOWN THAT YOU NEEDED A MINUTE,
I WOULD HAVE BEEN THERE AND JUMPED RIGHT ON IN IT.
I WOULD HAVE BEEN THERE TO SOFTEN THE BLOW,
I WOULD HAVE REFUSED TO LET YOU GO.
A DIAMOND WAS YOUR BIRTHSTONE,
THE ROAD WAS YOUR HOME, FOLKS ALL AROUND,
AND YET YOU WERE ALONE.
YOU ENDED UP IN ALL THE WRONG PLACES,
IT WASN'T YOUR FAULT, IT WAS PAINTED FACES.
I THINK I KNOW WHAT IT WAS YOU SOUGHT, MY FRIEND,
YOU HAD A BROKEN HEART THAT NEEDED TO MEND.
I KNOW WHERE YOU WENT LITTLE GEM, LITTLE JIM,
YOU WENT TO REST IN PEACE, AND TO FOLLOW HIM.
I HAVE TOLD MY FEELINGS AS BEST AS I COULD,
AND I KNOW FOR SURE THAT THE YOUNG DIE GOOD.
LOVE, CATHY
WRITTEN LOVINGLY FOR JIM ROBINSON, MY FRIEND.

"Imaginings"
These are the imaginings of Caitie,
A lady from the times of old---
Often she did wonder
If her tales would ever unfold. . .
At the time of her conception,
She was ancient with age;
Born far ahead yet way behind,
And held Wisdom as a vise in a cage.
Years have come and years have went,
Many lives within one, rent.
She will dwell a million longer;
What did not kill her made her stronger . . .

"Big Holiday"
Iím gonna have a Big Holiday
Send desolation far away
Iíll laugh and jest by the light of the moon
Big Holiday will be here soon . . .
Iíll play near the river and jump on in
Live my fancy --- I wonít pretend
Around the campfire, I shall twirl
I'm a Dance on fire, Iíll swing & swirl . . .
Seems so long since I felt such glee
To a Big Holiday, Iím gonna flee
Iíll take a bite of the honeysuckle bloom
Thereís just no telling what Iíll consume . . .
Iíll lay upon the earth so fair
And let wild wind run through my hair
When I gaze up to the star studded sky
Iíll know all answers to the question why . . .
Off on the Holiday I now go,
Iíll fathom the things I want to know
I've learned a lesson that was given to me
I found the Truth and it set me free. . . .

© 2001 by Cathlyn Cross- Leming (All rights reserved) All material written here is my sole original work