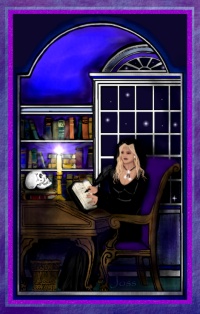 POETRY PAGE SIX

"To Dance"
Let the euphoric music make my body move;
I want to feel it deep inside every tiny groove.
Music in my soul fades the trouble and the tear:
Then my mind is filled with thoughts, sweet and crystal clear
Mind-soul-body; give me half a chance-
Within my ear the music...I just want to dance.

"An Invitation"
Sounds of Infinity are in my ear
It calls me closer, yes I hear!
Should I heed this ancient song,
This lovely path that canít be wrong?
Ever since the dawn of man
Righteous, the original plan,
Sisters wonít you pardon me
Or come along so wild and free?
First weíll float the constellations,
Then to the moon for revelations.
Heaven holds the lock and key, to
Every place we want to be.
Golden is the pact we hold
Oh the wings are gossamer in this fold!
Listen to this invitation ---
Donít deny your imagination,
Enjoy with me this visitation.
Now the time is here at last,
My friends the time is moving fast:
Onward to our destination,
One and all, no hesitation.
Not one should miss this celebration . . . .

"Threshold"
Standing on the threshold of magnificent sundry dreams
At the very axle with the grandeur of my schemes
Iíve many lives within one, and varied in between
The final draw has come at hand, I am purged and clean
It arrives most timely, and needful it so seems
I behold things clearly on the threshold of my dreams.

"Untitled"
The Spring evening is merciful,
and along comes the Rain
The drops fall gently at first
then batters away at the stain.
Sounds so soothing deep in my soul
erasing the woe of the times,
I now drift back most willingly,
back to the arms of the pines.
Here I dream, but not in sleep
while the current raises a sigh -
As pleasant visions fill my head,
I think I shall lay down and cry.
Thunder impassions the wind in the trees,
Behold the power of God
Lightening as sharp as a double edge sword
severs the trails I have trod.
Here I am back home once more,
and I am easy and slow -
I invite the Rain when it comes,
for with the Rain I go . . .

"JOHN PALERMO'S TIE"
I once made a bet with a novel kind of guy,
around his neck was a hundred dollar tie.
I wanted it so badly - though I knew not why,
But I was certain I could have it if I gave a special try.
He struck me very sharply as a secret agent spy
he was unpretentious, and acted sort of shy.
I began to stare and winked a sultry eye,
From across the table, I heard him faintly sigh.
He slowly sauntered over, asked if he could buy,
I softly whispered 'Yes' and then I told him 'Hi'
He looked me over fully, me oh me oh my:
Now I was assured that the time was clearly nigh.
As sure as fishes swim, and the lofty eagles fly
in the deepest ocean, and the clearest azure sky;
I didn't have to hustle, and didn't have to lie,
but I came home wearin' John Palermo's Tie.
(Dedicated to J. A. W., A very special man who had
a serious influence in my life. I will never forget,
and never regret)

"My Bower"
Today, I woke up to a day
same as yesterday...
Too many like that anyway.
Dreams died at my wakening...
they were blown away.
Did I sleep or was I numb?
And I see dread more than some.
How many more as today?
How much more utter dismay?
Wow, I'm sick of all this sameness
And I realize, I'm not at all blameless.
I won't settle for what I've got
I'll step on up -- don't want to rot.
Though my dreams are astronomically big;
I want roses in my garden bower... Dig?

© 2001 by Cathlyn Cross- Leming (All rights reserved) All material written here is my sole original work